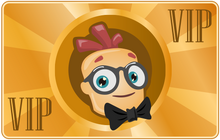 Boosters are an integral part of Quizcover's gameplay: not only do they make it easier to score but they also make gameplay more interesting thanks to the additional tactical and visual elements they introduce.
VIP users get one free (in the sense of no further charge) booster per question. If they combine this feature with Ad Mode, they don't have to make any further payment for the first two boosters per question.
The VIP booster must be used on a given question; you can't accumulate them and use them later. This also means that VIP boosters don't qualify for a Booster Back refund. (Same with Ad Mode.)
You can become a Quizcover VIP through a monthly, automatically-renewing subscription or 24-hour status upgrades. In the Quizcover Shop, you find both options:
In the booster purchase popup (which comes up when you hit a booster button after you've run out of boosters of the given type), the first 24-hour VIP upgrade you buy is discounted: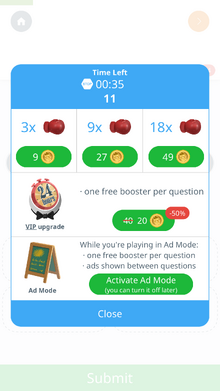 After those 24 hours, the game will inform you of a renewal option and also offer you a monthly subscription.
Ad blocker interference detected!
Wikia is a free-to-use site that makes money from advertising. We have a modified experience for viewers using ad blockers

Wikia is not accessible if you've made further modifications. Remove the custom ad blocker rule(s) and the page will load as expected.